What is
HYUNDAI EXTERIOR FOIL®
HYUNDAI EXTERIOR FOIL®
HYUNDAI EXTERIOR FOIL® is made with a low-migration polymer plasticiser and can be used without any problems within 18 months from the film production date. With its diverse pattern designs and superior function, HYUNDAI EXTERIOR FOIL® improves the exterior appearance. It is ideal for window profile, entrance door, wall panel and exterior roof without any color changes. Also HYUNDAI EXTERIOR FOIL® is a RAL certified material that proves the quality of the products.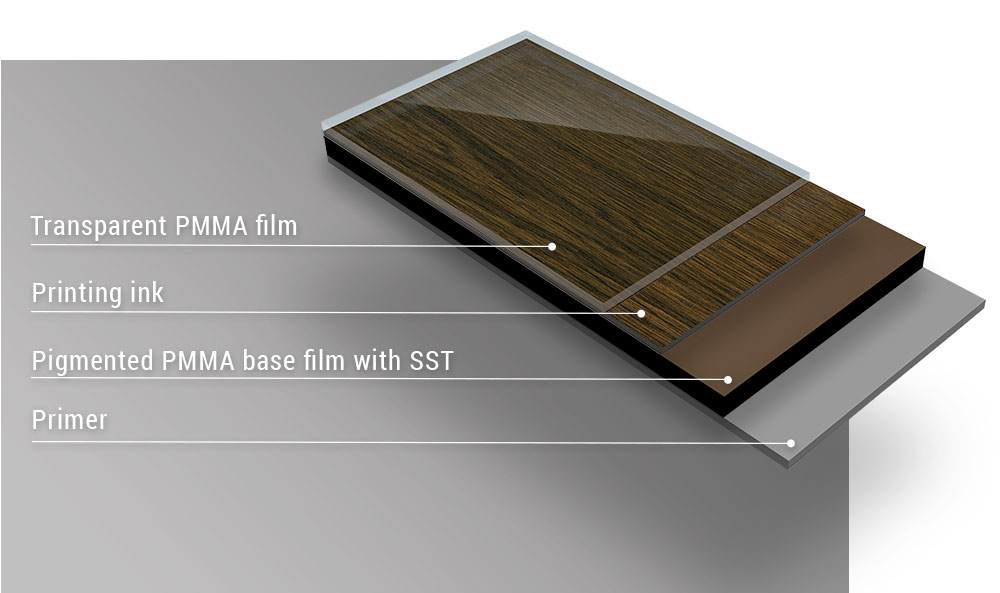 Why HYUNDAI EXTERIOR FOIL®
Superior Function and Form
Durability in variety climate condition
Withstand humidity, dryness and UV ray
No color changed after 10,000 hours artificial weather-o-meter test
Acrylic composite product
Variety designs including wood and solid color
Easy to install and good insulation quality
Product Range
Structure
Description
ME/HE

PVC+PMMA
Standard
Improvement againt heat absorption (HBU)
SE

PMMA+PMMA
Increase the weather resistance
XE

PMMA+(PMMA+PVDF)
Strengthen the weather and stain resistance

PVC+(PMMA+PVDF)
MP

PMMA+PMMA
Reinforcement of weather resistance for exterior door
Characteristics
HYUNDAI EXTERIOR FOIL® has 4 different products and they have different functions and structures each other. Our pattern designs can applied all of these products without any limits. The durability in climate condition and color fastness and other characteristics are already certified by SKZ.
| Material | Design | Thickness | | Width | Roll length | Nominal |
| --- | --- | --- | --- | --- | --- | --- |
| PVC | Solid, Wood | Acrylic Top Layer | 50 µm | 1,320mm | 500m | 0.0~ + 5.0mm |
| | | Total Thickness | 200µm (Tolerance ± 20µm) | | | |
ZERTIFIZIERUNG
Mit dem für Außenfolien hoch angesehenen RAL Gütesiegel zertifiziert SKZ die Ecoloid Qualität und Eigenschaften wie Wetterbeständigkeit von Formen, Profilen und Laminierfolien.